The Following Artists Were Scheduled in 2020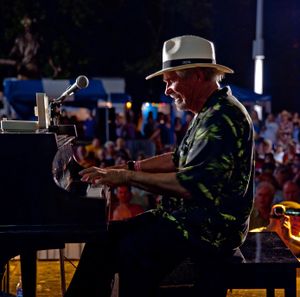 Bob Seeley is one of the greatest living proponents of boogie woogie. His artistry also includes ragtime, Harlem stride, and blues. A Bloomington Boogies favorite who still performs around the world at age 91, Seeley is "the best boogie woogie player on the planet," according to Dick Hyman. Seeley's greatest influence was Meade Lux Lewis, a giant of boogie woogie and personal friend. Bob first met Meade in Detroit in the 1940s, and a longstanding friendship developed which greatly influenced Seeley. He also played piano with Art Tatum, who reportedly was duly impressed. Eubie Blake was among Seeley's circle of friends, and he worked as accompanist to blues vocalist Sippie Wallace. 
In his book, A Left Hand Like God: A History of Boogie-Woogie Piano, author Peter Silvester wrote of Seeley, "His solos are notable for their coherence and logical progression, which propels them to a satisfying climax. Of all the contemporary pianists, Seeley reproduces the sound and spirit of Meade Lux Lewis with the most conviction and sometimes even surpasses the master".
Bob is a phenomenal pianist and one of the greatest boogie woogie players ever.  Don't miss this opportunity to see Bob Seeley, a living legend and a link to the great boogie woogie players from the early 20th Century.  
Bob Seeley will perform Saturday, Aug. 8, at the ticketed concert at WTIU.
Bob Seeley performs St. Louis Blues
---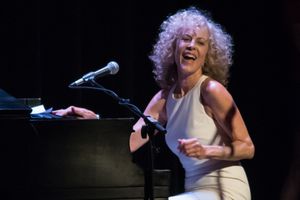 Steinway artist Judy Carmichael is a leading interpreter of stride piano and swing. Count Basie nicknamed her "Stride," acknowledging her command of this demanding style. Her recording, Two-Handed Stride, featuring from Count Basie's Orchestra Red Callendar, Harold Jones, Freddie Green, and Marshall Royal, was nominated for a Grammy. A native of California, Carmichael moved to New York in the 1980s and has maintained a busy schedule. She has toured India, Portugal, Brazil and Singapore for the US Information Agency. In 1992 she was the first jazz musician sponsored by the US Government to tour China. Judy has been featured on many television and radio programs, including Entertainment Tonight, A Prairie Home Companion, CBS Sunday Morning, and shows on the BBC, among others.
One of a handful of musicians who approach jazz from a perspective of its entire history, Judy explores the music deeply, infusing it with a "fresh, dynamic interpretation of her own" (Washington Post).  The National Endowment for the Arts awarded her a major grant to present early greats on film and to discuss the history and development of jazz piano with college students across the country. 
Judy has written two books on stride and numerous articles on jazz. Her memoir, Swinger!  A Jazz Girl's Adventures From Hollywood To Harlem, is available in bookstores, at www.amazon.com, and at www.judycarmichael.com.  She is celebrating her 20th year producing and hosting her Public Radio Show, Judy Carmichael's Jazz Inspired, carried by over 170 stations in North America and abroad and on SiriusXM. Her recordings and books are available at www.judycarmichael.com, on iTunes, and through C&D Productions, PO Box 360, Sag Harbor, NY, 11963.
Festival attendees have rated Judy Carmichael the artist they enjoyed the most and wanted to see again.  There will be several opportunities to see Judy this year: she will present a Master Class on Stride Piano (pre-registration required) on Saturday, Aug. 8, and that night she will perform at the ticketed concert at WTIU. 
Watch Judy Carmichael perform around the world
---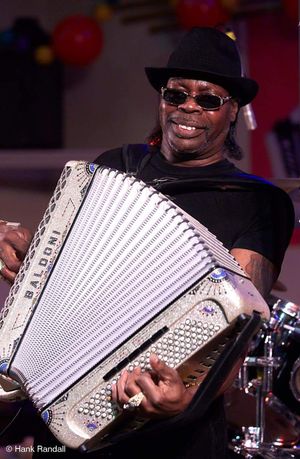 Clayton Joseph Chenier is Creole music royalty. His father, the legendary Clifton Chenier, invented the style of known as Zydeco, and was the first Creole musician to be recognized with a Grammy Award. Raised in this indigenous American culture with its own distinctive language, cuisine, and music, C.J. delivers soulful vocals along with jaw-dropping masterful accordion-driven Zydeco and blues.
After a childhood in tough housing projects in Port Arthur, Texas, C.J. joined his father's band on his 21st birthday.  His first gig was playing at the opening of world-renown Antone's in Austin, TX. C.J.'s father showed him how to front a world-class touring band, teaching C.J., a multi-instrumentalist, how to turn his lifelong passion for music into a career. When Clifton died in 1987, C.J. adopted the Red Hot Louisiana Band and recorded his debut on Arhoolie Records.
Chenier and Ringo Starr were hand-picked by Paul Simon for Simon's 1990 Rhythm of the Saints album, nominated for Album of the Year and Producer of the Year.  C.J. was invited to tour with Simon. C.J. has also played with John Mayall, Ray Parker, Jr., Joe Sample, Jimmie Vaughan, Sonny Landreth and Buckwheat Zydeco.  He has performed at numerous festivals around the world and is a consistent crowd pleaser at The New Orleans Jazz and Heritage Festival.
Attending a C.J. show is a transformative experience. You may come in tired but you will leave renewed and happy.  And that is the promise C.J. makes, "You can't come to my show and stay unhappy. You're going to break a smile before too long. This is happy music."
C. J. will perform Friday, Aug. 7, in the free opening concert at Switchyard Park, and Saturday, Aug. 8, in the ticketed concert at WTIU.  We welcome C. J. Chenier back to Bloomington Boogies!
---
Stephanie Trick & Paolo Alderighi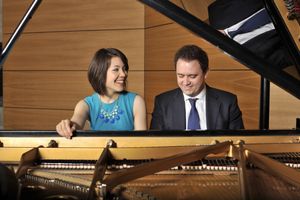 Classically trained pianist Stephanie Trick began playing at age five. After being exposed to early jazz, the syncopation and swinging rhythm piqued her interest, and it became clear that she wanted to pursue stride and classic jazz styles. Her swinging approach is inspired by original stride pianists such as James P. Johnson, Fats Waller, and others, and she has a firm command of boogie woogie, ragtime, and blues.  Stephanie has performed in many parts of the U.S. and Europe at venues and festivals which feature those styles and more.  A serious student of classic jazz and stride piano, she has played with a number of celebrated musicians. One of those, the acclaimed pianist Paolo Alderighi, is now Stephanie's husband! Together they create fresh arrangements of songs from the Swing Era in a four-hands piano duo, and they have recorded several albums together.
Born in Milan, with a degree in piano from G. Verdi Conservatory, Paolo Alderighi is one of Italy's foremost jazz pianists. Paolo met Stephanie at a festival in Switzerland in 2008.  Three years later they started to collaborate on a four-hands piano project dedicated to classic jazz, preparing arrangements of songs from the swing era while drawing from ragtime and blues. Following the release of their first album, Two for One (2012), they performed throughout the U.S., Europe, and Japan. A second CD, Sentimental Journey (2014), shows their commitment to four-hands duets on one piano, rarely used in jazz. Their partnership continued with Double Trio Live (2015) and Double Trio Always (2016), recorded in the piano trio setting, but with two pianists instead of one. In 2018, they released their most recent recording, Broadway and More.
The Paolo Alderighi and Stephanie Trick Duo has performed in a variety of venues around the world, including many festivals and jazz clubs. 
Stephanie Trick & Paolo Alderighi will present a Master Class on Saturday, Aug. 8 (pre-registration required). They will perform in ticketed concerts Saturday night, Aug. 8, at WTIU and Sunday, Aug. 9, in the Ivy Tech Waldron Auditorium. 
Stephanie Trick and Paolo Alderighi - "Fun in Four-Hands"
---
Born in Los Angeles in 1952, blues pianist/vocalist Gene Taylor began playing piano, drums, and guitar at a very early age. Having lost his parents and brother by age 15, Gene was firmly committed to the life of a musician. After obtaining his driver's license at age 16---and looking older, thanks to an already-receding hairline---he worked with L.A.-based blues legends Big Joe Turner, T-Bone Walker, Lowell Fulson, and Pee-Wee Crayton. This experience was invaluable, and during this period he met James Harman and also Phil and Dave Alvin, who later formed The Blasters. After working with Harman during 1974, Gene was asked to join Canned Heat, and he was a member of this legendary band from 1974 until 1976, providing Gene his first international exposure.
In 1978, Gene moved to Toronto, living and working there and worldwide for several years. 1981, he was asked to join the Blasters,.  He performed with the band for four and a half years, recording four critically-acclaimed albums and appearing on many music television shows. In 1984 The Blasters were featured in Walter Hill's major motion-picture, Streets Of Fire, for Universal Films. Gene released his first solo record, Handmade, in 1986, and also toured with the late Rick Nelson between Blasters' engagements.
After moving to Austin in 1993, Gene joined The Fabulous Thunderbirds, remaining with the internationally-acclaimed band until 2006, touring the world constantly and recording studio and live albums with the band.  He also participated in tours and recordings of the 'Original Blasters Reunion' from 2002-2003. Gene has also appeared on a recording (2006) with his dear friend, legendary L.A. bluesman, Carlos Guitarlos.  Gene continues to record and perform with his friend of over 35 years, 'Icepick James' Harman (13 records and counting!).
Gene Taylor will perform in a ticketed concert on Sunday, Aug. 9, in the Ivy Tech Waldron Auditorium.
We are excited to welcome Gene Taylor to his first Bloomington Boogies!
---