The Bloomington Blues & Boogie Woogie Piano Festival
August 12 - 15, 2022
The 2022 festival is history!  If you attended or participated, please help us evaluate our activities by completing a brief survey at https://bloomingtonboogies.com/feedback!
View photos from the 2022 festival.
The Bloomington Blues & Boogie Woogie Piano Festival features acclaimed musicians, dancers, and refreshments. With free and ticketed performances and free educational activities, the festival has been voted a top 10 festival in Indiana!  The festival began in 2015 and took place annually until it was canceled in 2020 and 2021 due to Covid-19.
Our mission is to present world-class performers in Bloomington, Indiana, and to introduce young people to the artists and to various musical styles through free educational activities.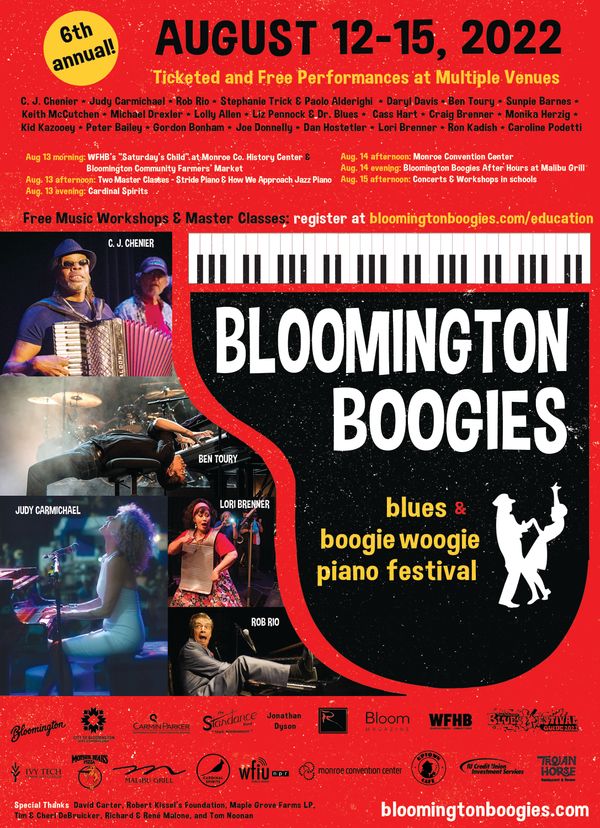 Bloomington Boogies presents the best blues, boogie woogie, Gospel, and stride pianists in the world, outstanding Zydeco accordionists, world-class percussionists, and professional dancers. Artists have included Bob Seeley, Henry Butler, Marcia Ball, Carl Sonny Leyland, C. J. Chenier, Rob Rio, Judy Carmichael, Kenny "Blues Boss" Wayne, Daryl Davis, Stephanie Trick & Paolo Alderighi, Jean-Pierre Bertrand, Eden Brent, Bill Sims, Jr., Mark Braun (Mr. B), Josh Paxton, Cynthia Girtley, Scott Patterson, Ricky Nye, "Sunpie" Barnes, Ben Toury, Liz Pennock & Dr. Blues, Henri Herbert, Keith McCutchen, Katharina Alber, Michael Drexler, Cassidy Gephart, Josh Christina, David Barry, Mike Lucas, Craig Brenner, Ross Martinie Eiler, Jeremy Stevenson, Michelle Brentano, and Noah Selo. Our rhythm section has included Uganda Roberts/congas, Gordon Bonham/guitar, Joe Donnelly/sax, Ron Kadish/bass, Dan Hostetler/drums, and Lori Brenner/percussion.
Click below for photos and videos from past festivals:
We are excited to present our first festival since 2019.  Because Covid-19 is still around, we are in communication with health officials, and we will announce our 2022 Covid-19 safety protocols in consultation with officials. People may choose to mask at any time. Masks are recommended in indoor public transportation settings and may be required in other places by local or state authorities. People with symptoms, a positive test, or exposure to someone with COVID-19 should wear a mask and not attend events.  For more information about Covid-19, visit the Monroe County Health Department Covid-19 Information page.
Bloomington Boogies and its events and activities are accessible to people with disabilities. Contact us for requested accommodations at least two days before an event.
Become a festival sponsor! Click to learn how to become a sponsor - or buy festival shirts, hats, mugs, and glasses at the festival and help fund our activities. To buy now, click on Merchandise.
We are greatly saddened by the passing of our friend, Conguero and festival performer Alfred Uganda Roberts, on May 5, 2020, and by the passing of pianist Gene Taylor of The Blasters and Fabulous Thunderbirds on Feb. 20, 2021.